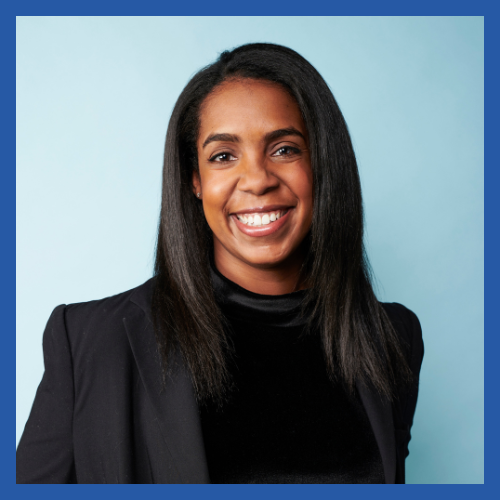 Job Title: Senior Counsel, Legal and Business Affairs
Company: Epic Games, Inc.

As Senior Counsel in the Legal and Business Affairs department at Epic Games, Erica supports a range of Epic's products and services, including Fortnite, Rocket League, Fall Guys, MegaGrants, and DEI initiatives. In her role, she is responsible for Epic's philanthropic activities, handles partner, content and music licensing; content development and production; accessibility; clearances; establishes DMCA processes across the ecosystem; advises on ecommerce; performs merger and acquisition due diligence; responds to regulatory inquiries; advises on player health and habits; and negotiates and drafts agreements across these areas. In 2022, Erica organized and implemented a giving campaign to support those affected by the war in Ukraine which provided $144 million dollars to those impacted by the war.
Prior to joining Epic Games in November of 2020, Erica worked as Counsel in the Legal and Business Affairs department at Sesame Workshop, Erica supported the organization by assisting with developing the business terms, strategizing, negotiating deal points, advising members of the Workshop, and drafting relevant agreements. Carter specifically handled matters related to content production, marketing, social media, communications, collaborations, special events, Speaker's Bureau, themed entertainment and outreach in Latin America, intellectual property protection and enforcement, clearances, employment matters, policies, and licensing.
In 2020, Carter was chosen to be a member of an internal committee tasked with supporting Senior Leadership and Human Resources in focusing on matters regarding diversity, equity, and inclusion. She recently joined the Workshop's senior leadership Operations Team through an inaugural effort led by the President & CEO to broaden and diversify the voices that impact business decisions and operations.
Carter serves as the Secretary of the Board of Copyright Society, and previously served as the Assistant Treasurer and the New York City Chapter Co-Chair. She is an active mentor in PALS (Practicing Attorneys for Law Students), a member of the Brooklyn Law School Alumni Board, and an advisor for the Brooklyn Law School Sports and Entertainment Law Blog. In March of 2019, she received the Brooklyn Law School Entertainment and Sports Law Society Alumni of the Year Award for her inspiring accomplishments in entertainment law.
Prior to working at Sesame Workshop, Carter worked in-house as an attorney for The Collective, also known as Marc Ecko or Ecko Unlimited. Carter earned her J.D. and Certificate in IP, Media, and Information Law in 2015 from Brooklyn Law School. While in law school, she was the recipient of the Gwen J. Greenberg Prize and a CALI Excellence for the Future Award in Negotiations.
She received her B.A. in Communications, with a minor in Public Relations from Belmont University in December of 2010, where she was an NCAA Division I student-athlete. She is admitted to the bar of the State of New York.